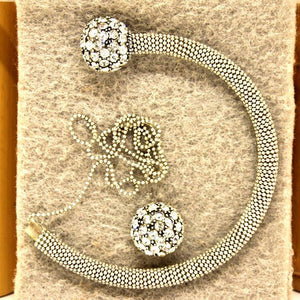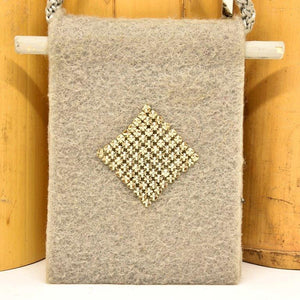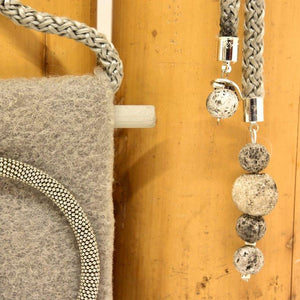 An unusual handmade Pendant for the wearer who really loves bling and perfume. The Pendant goes beautifully with the flowing styles that are so popular at the moment A one-off piece of jewellery, to be treasured for its uniqueness, it is indeed wearable art.
The pendant is a pretty broken bracelet. It is mounted on sealed, silver-grey recycled felt (made from plastic bottles) Size 100mm x 70mm. Grey wood dowelling completes the picture. To the back is a diamanté square. The pendant hangs on a silver-grey twisted cord, size 325mm making the overall size 425mm (26 inches) approximately. The cord has three Bali-type silver beads: the first is fixed the other two are sliding to allow for length/shape adjustment. At the ends of the cord are five Lava Beads, Lava…. a lightweight, porous rock, formed from liquid Magma expelled from erupting volcanoes. It is said to be a grounding stone, calming but also gives intense energy to the wearing. Because of Lava's lightweight properties, we produce wonderful beads and because of its porous texture, it acts as a diffuser for our favourite Essential Oils.
To use, place your Lava bead on a piece of kitchen roll and add a few drops of your chosen Essential Oil. Allow the oil to be absorbed for a few minutes before wearing your jewellery. Essential Oil fragrances will fade at different rates, but usually will last at least two days, Although we use many recycled items, all our jewellery findings are new.