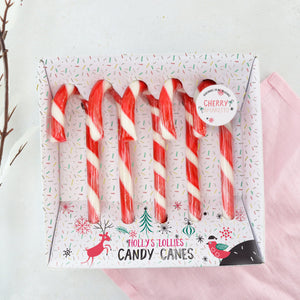 These traditional looking red and white cherry amaretto candy canes are the perfect Christmas table/tree addition and even better, they taste like a boozy Bakewell tart.
With the traditional stripes of a candy cane, and made with real amaretto, These candy canes make the perfect Christmas present, decorations, or just to enjoy for yourself!
Each box will contain five individually wrapped candy canes.
Suitable for vegans and vegetarians.
Colours may vary slightly.