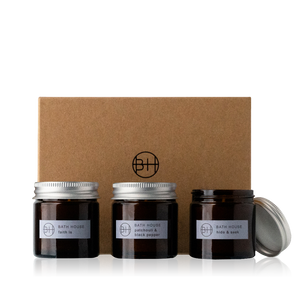 Presented in a stylish reusable box, this trio of hand-poured soy wax fragrance candles will help you discover or rediscover Bath Houses fragrances. Chosen for their rich and warm qualities. Each candle has a burn time of 18 hours.
Faith Is 60g – warm and intense scent with dry, rich notes of oudh and woods.
Patchouli & Black Pepper 60g – a soulful scent with rich, sensual patchouli.
Hide & Seek 60g – a warm, embracing scent with rich floral and fruit notes.