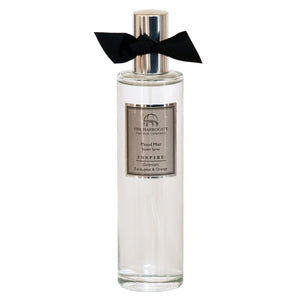 Happy
Stimulate your mind and awaken your senses to the fresh and vibrant fragrance of Happy. A perfect fusion of zesty limes and warming black pepper oil carry you to a place of happiness and contentment. This spicy, exciting scent will lift and enhance your happy mood and delight your lovely home. So, revive and shine.
Inspire
Evoke a feeling of positivity and stir your mind into action with the refreshing and revitalising Inspire fragrance. This blend of Eucalyptus, Geranium, and Orange Blossom provides the ideal combination to inspire a day of happy thoughts and a feeling of well-being. Surrender your anxiety and feel energised; feel inspired.
Orange & Cinnamon
Fill your home with the smooth and velvety fragrance of Orange and Cinnamon. The sweet, juicy scent of orange and the soothing and calming properties of Cinnamon and Clove create a happy feeling of contentment and relaxation. So, why not let this aromatic blend of fruits and spices set the scene for the coming season when happy memories are created.