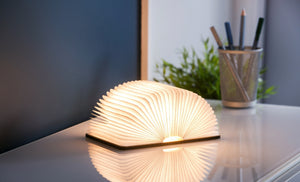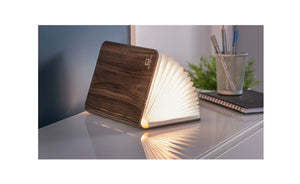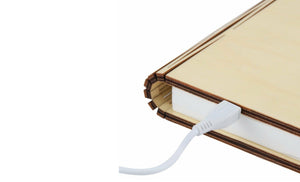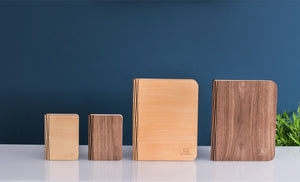 The natural wood  Book Light collection is definitely a great additional piece of art to any home; when closed, this  Book Light masquerades a laser-cut wooden book, but when opened it transforms into a sculptural light emitting a wonderful ambient warm soft LED light through the pages.
The beautiful, exquisite design opens to full a 360 degrees with cleverly concealed magnets and the lovely soft touch papers are tear-proof and water-resistant that are lighted up by long-lasting LED lights. Inside the laser-cut wood cover lies an interior lamp body made from durable, water-resistant Tyvek pages containing high-performing LEDs.
The dynamic, multi-functional light can be opened up to 360 degrees and comes with a micro-USB charger. It is assembled by hand and has a battery life of up to 8 hours.
– Red Dot Design-Award Winning Design
– A sculptural light object with the big WOW factor
– Made of REAL natural walnut or maple wood
– Waterproof and tear-proof Tyvek paper
– Rechargeable and Portable
– Packed in a premium gift box
Only Available In Walnut.